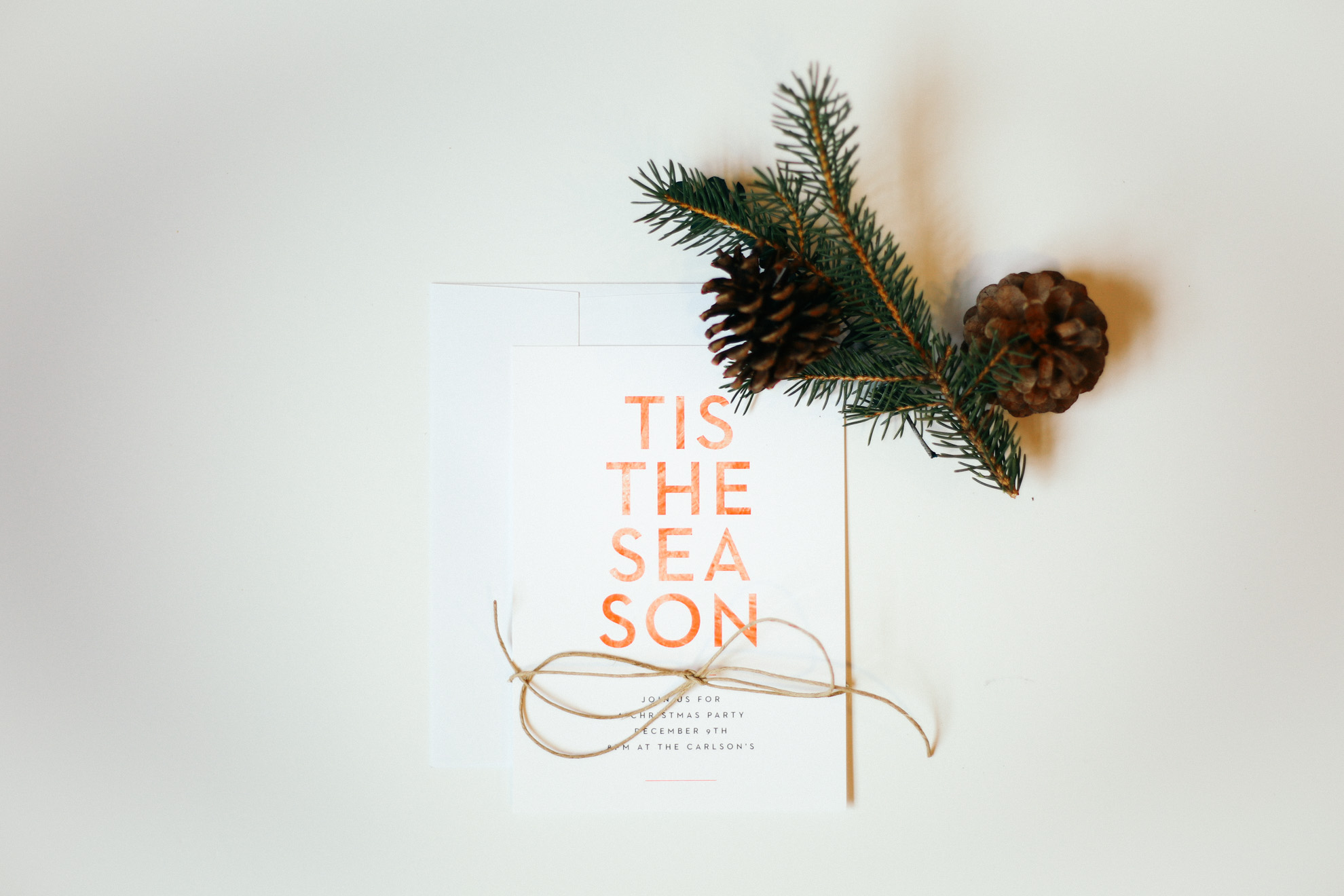 As the days start getting shorter and the air starts getting cooler, it's a reminder that the holidays are just around the bend. My excitement starts to climb as my calendar begins filling up with winter plans – cookie baking days, afternoon sleigh rides, Christmas tree farms… There are so many things to accomplish!
One thing that I'm looking forward to this year is arguably one of the most classic holiday tasks – sending out Christmas cards! There's something about receiving a personalized letter that just warms the heart! With it already being mid-October, it's the perfect time to start thinking about getting your Christmas cards and holiday party invitations organized.
This year, I've teamed up with Basic Invite to show you their beautiful line of stationary. Whether you need to send out a handful of company Christmas party invitations or personal family photo cards, there's something for everybody.
The whole website is filled with stunning design and imagery. I spent over an hour perusing the site, sifting through card after card, each one seeming better than the next. With over 250 holiday card designs, it's so hard to choose which ones to go with!
There are four things about this company that I think makes them stand out from the rest:
1 | Basic Invite gives you almost unlimited color options. Once you find a design that you like, you can start playing around with different colors to make it your own. It's baffling how many different hues and shades you can choose from. When you start changing the colors, you can instantly preview the change so you know exactly how the card will look.
2 | In addition to the nearly unlimited color options, they also offer over 40 different colors of envelops. Your card will surely stand out from the rest the minute they open their mailbox.
3 | Emailing everyone on your list for updated addresses is now a thing of the past. With Basic Invite's address capturing service, you simply share a link on any social media platform in order to request their address. The addresses then get stored into your customer account and you don't have to spend time getting them all in one place. How handy is this?!
4 | Have you ever ordered an item online only to worry that it won't look the same in person? Well this is something you never have to fret over with Basic Invite. You can order custom samples sent right to your door! After choosing a design and selecting the colors, you can go ahead and order a few samples. This way you never have to worry about what your cards will end up looking like. Simply review the sample and decide if you'd like to make any changes before placing your order.
These next few months will surely fly by so now's the time to start getting your cards ready! Right now, Basic Invite is offering 30% off with the code holi30.
Thank you Basic Invite for sponsoring this post.