One of the biggest highlights from my trip to the UK was meeting up with Dr. Raj Joshi – expedition leader and founder of The Adventure Boutique. I met Dr. Raj three years ago while doing a project at the University of Minnesota. He's based out of England so we had never met in person but over the years, we kept in touch via email and Skype. When I started planning my trip, I immediately shot him an email hoping we could finally meet up in person. And we did!
My mom and I met him and his intern Abel in Wales for a weekend so we could hike in Snowdonia National Park. Thanks to Dr. Raj's incredible generosity, we all stayed at the Bryn Tyrch, a beautiful country inn near the village of Capel Curig. The entire weekend was filled with dinners, drinks, and delightful conversations.








The morning of the hike, we all met for an early breakfast at the inn. After that, we drove to the base of the mountain where we began our hike. The ascent was beautiful. Near the peak, a huge cloud rolled in which made for really awesome, eerie pictures. When we reached the peak, to my surprise, there were hundreds and hundreds of people! Turns out, if you're not into hiking, there's a train that can bring you from the bottom of the mountain to the top. There's also a little plaque you're apparently supposed to touch so you can say you were officially at the very peak.
When we got to the top, we stopped to have lunch and rest our legs. Raj even brought some wine!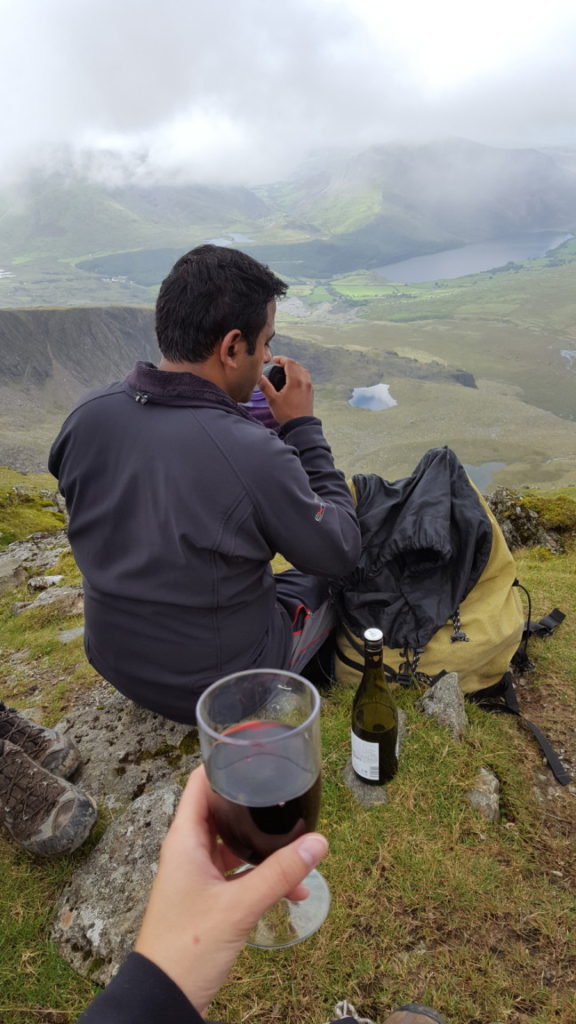 For the descent, we decided to take the path less traveled. In other words, the hike was going to become way harder but the views were going to be way better. There were times when we actually had to rock climb in order to continue any further. It was so exhilarating!
In the end, we hiked for about 7 hours with amazing weather the entire time. For Wales, I guess that's unusual so we really lucked out. The views were astounding; I think I stopped every five minutes to take photos. It was such a memorable weekend and I'm so thankful to Raj and Abel for safely guiding our hike! 🙂