Booking flights can be stressful. There are hundreds of sites to choose from; Expedia, Kayak, Orbitz…. it's hard to decide which one is best. For me, my go-to flight search tool is Google Flights. I absolutely love the simplicity of it.
Now, I'm not saying this is the only site I use. It's simply the one I always use first and definitely use the most. I feel like it gives me the best overall idea of what flights are out there.
.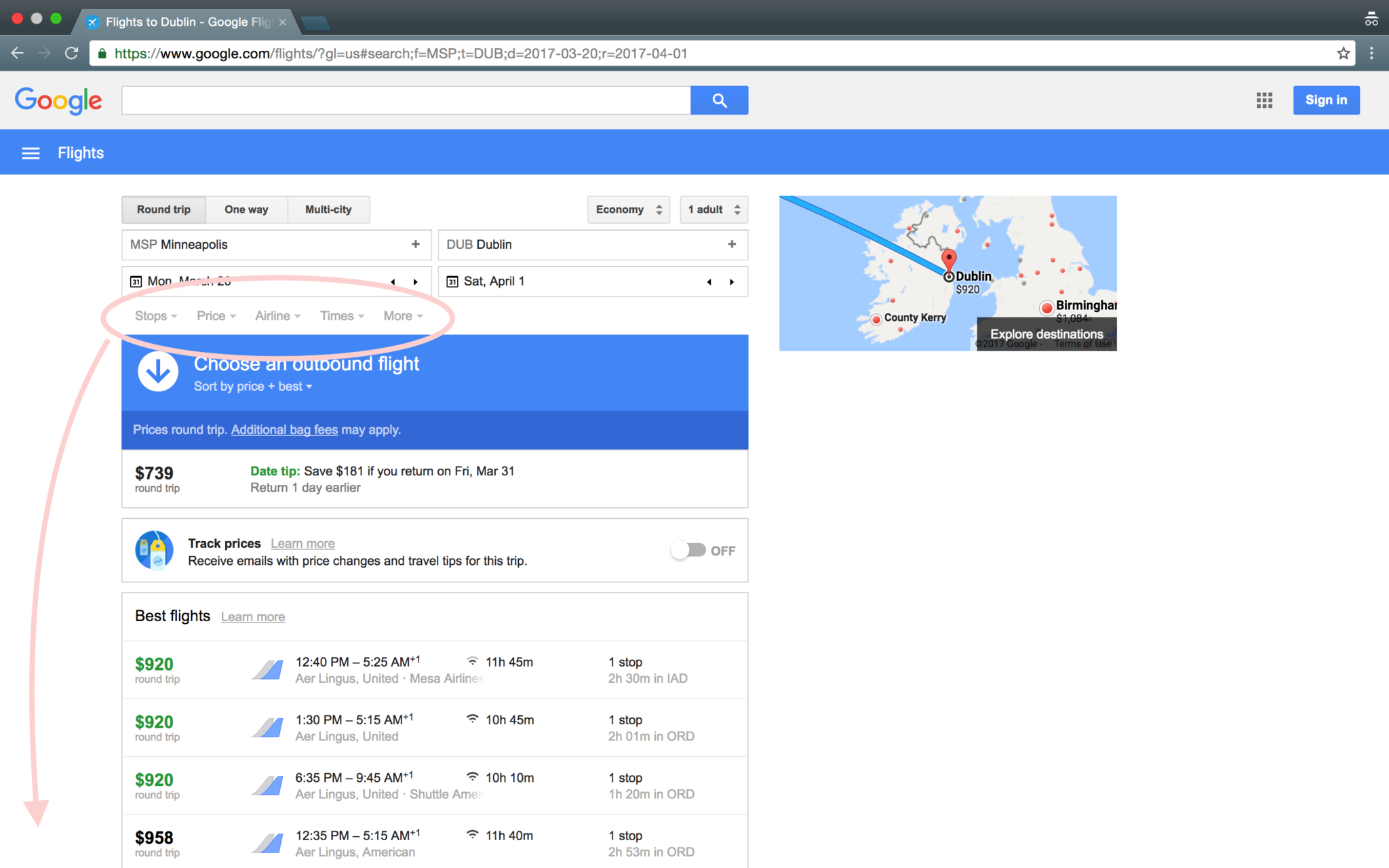 .
Stops | You can select any, nonstop, 1 stop, or 2 stops
Airline | Only like to fly with Delta? Want to steer clear of Spirit? Here you're able to choose specific airlines.
Times | This is where you can specifically choose when you want to arrive and when you want to depart. For example, say you're flying to New York but you're so not a morning person. You do not want to be on a flight before 9am. Simply use this filter to only show you flights departing after 9am.
More | The "duration" is one of my favorites under the "more" tab. Duration just means:
How long do you want your flight to be?
For example, say you're looking for a flight to Barcelona. If you don't set any parameters for duration, your search will show you flights ranging from 11 hours long to 30 hours long. If you decide that the maximum number of hours that you can handle is 13 hours, then duration is where you would set this.
.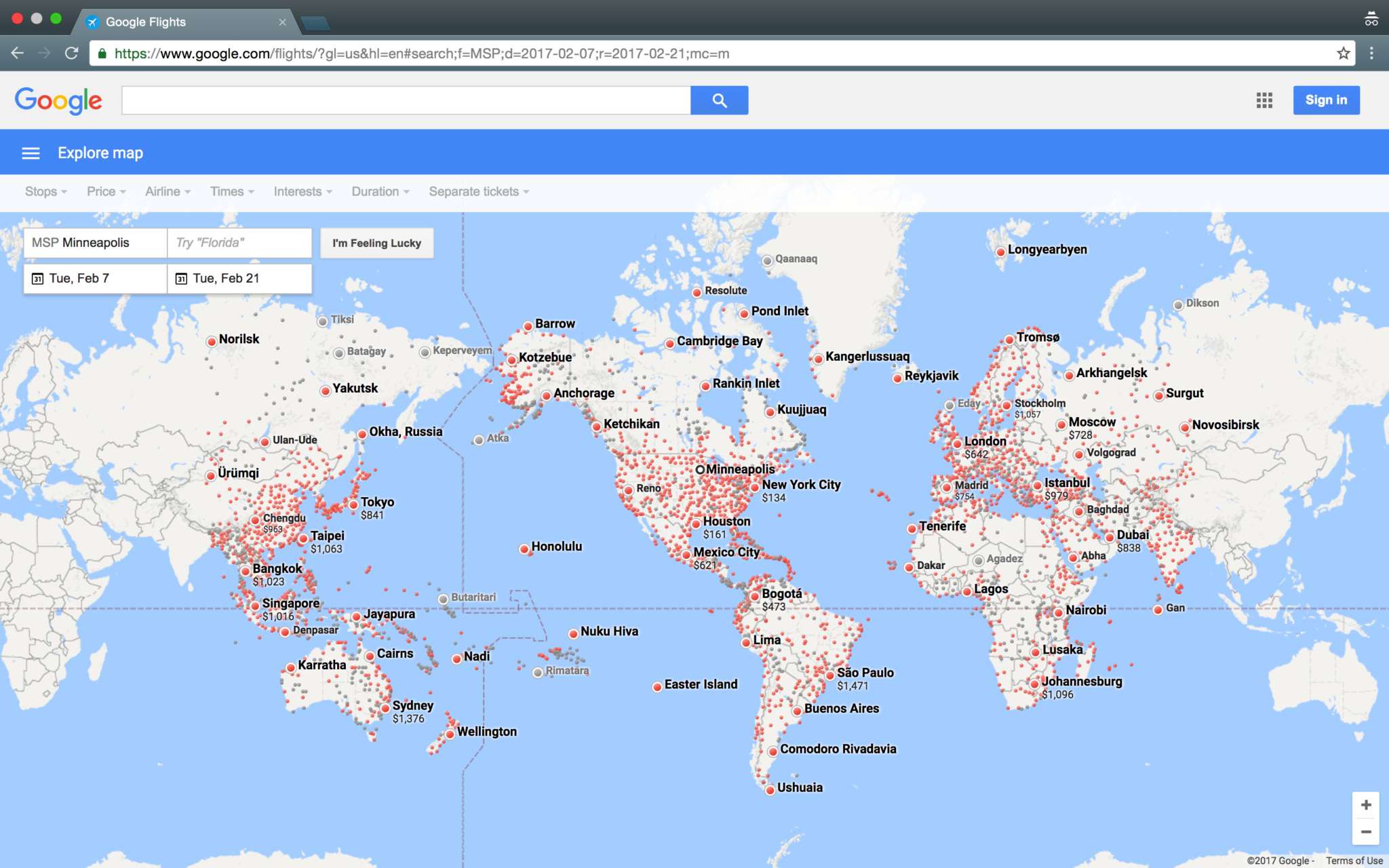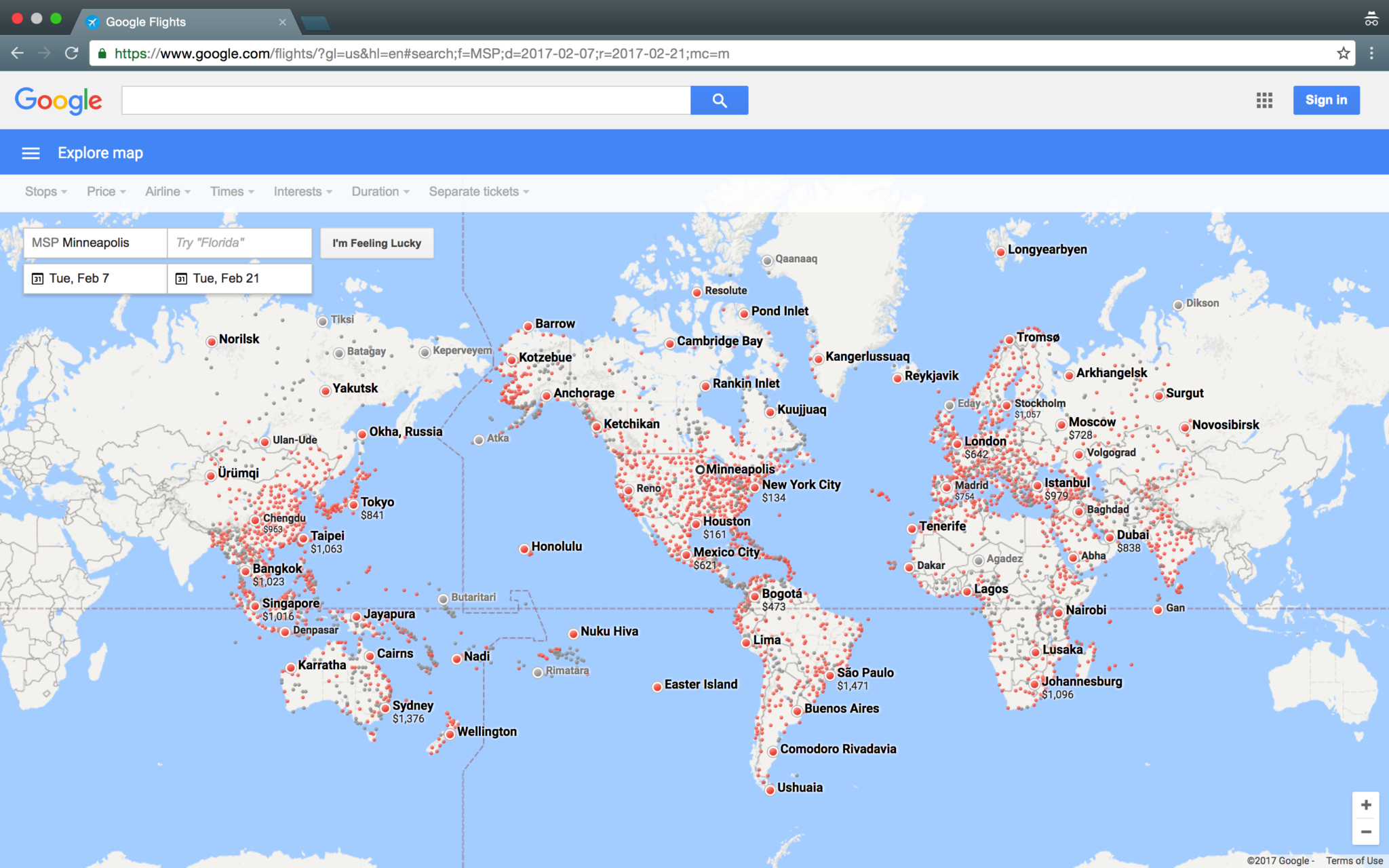 .
The "explore map" feature is such a fantastic tool. This gives you an entire overview of the world. All of the little red dots you see are airports that you can fly into. When you zoom in on a region, the prices will start to populate.
Since I travel a lot and I'm always on the hunt for cheap flights, this is what I'll do: I'll type in my home airport, leave the "where to?" box blank, type in some general dates, and start exploring different destinations/prices.
.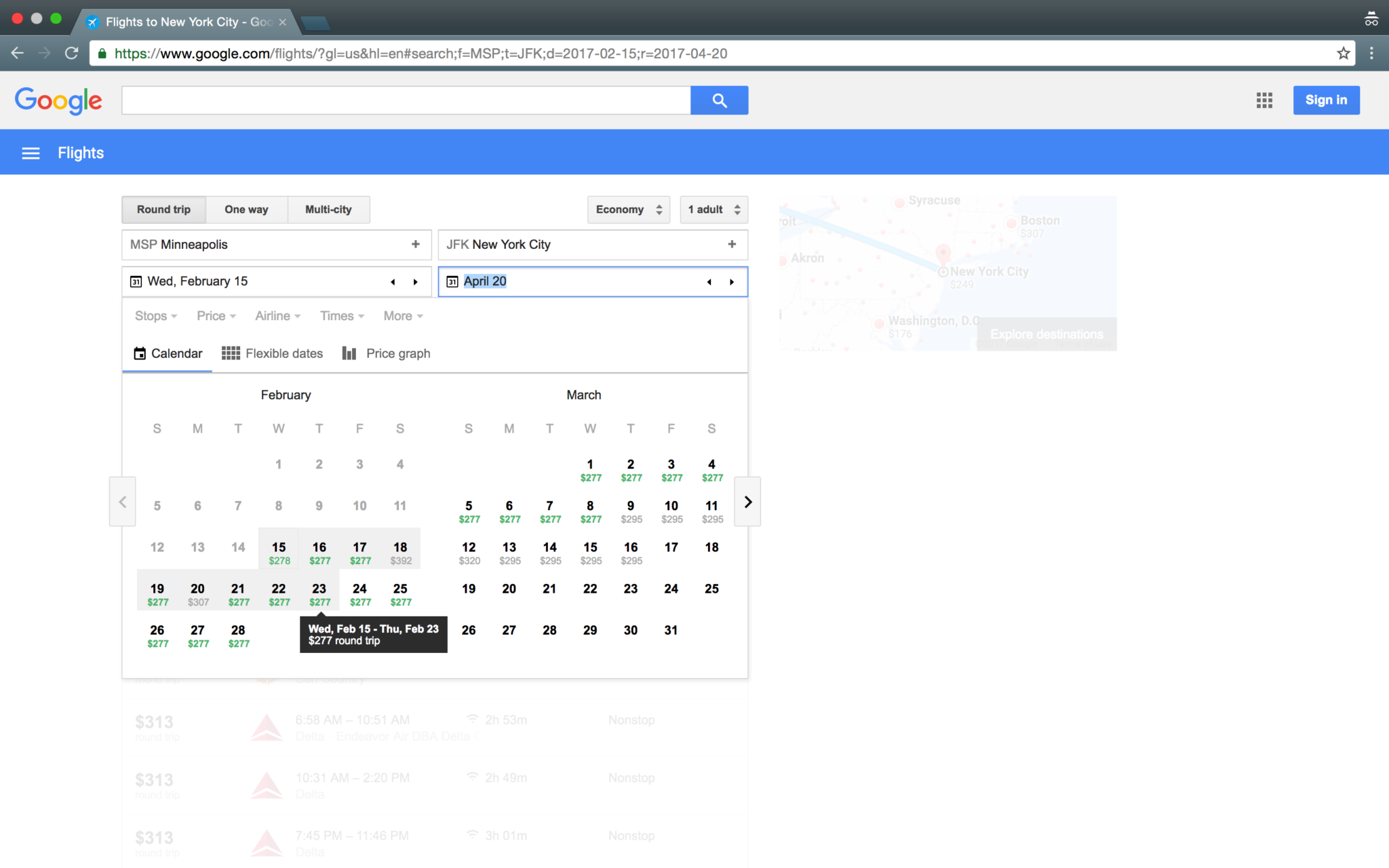 .
Once you decide where you're going, it's then time to check into prices. You can begin by choosing either the calendar view, the flexible date view, or the price graph view. My personal favorite is the calendar; it's more straight-forward. The green font just means that is the cheapest price offered around that time.
.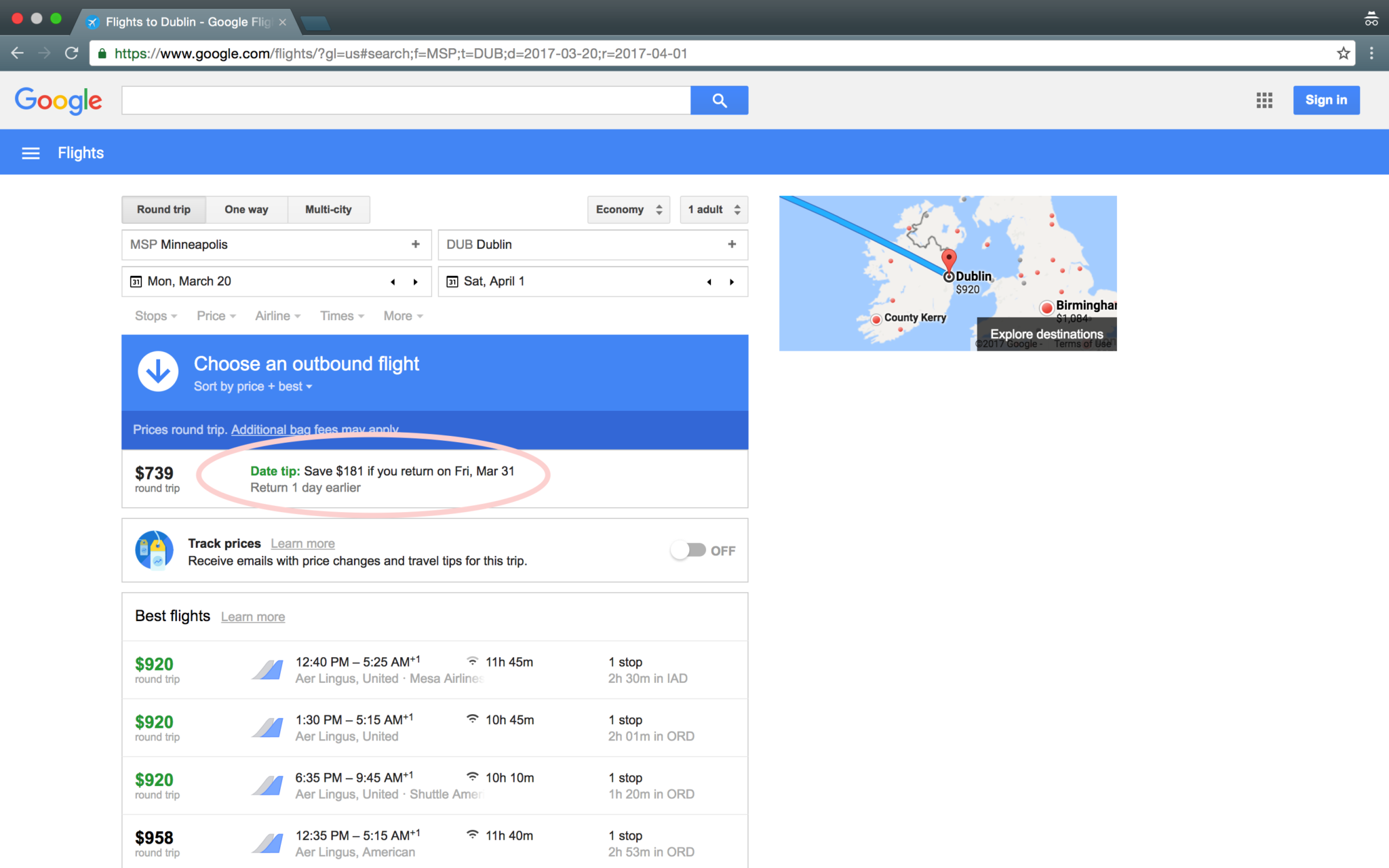 .
The final thing I want to mention is the "date tip" feature. This will alert you of an opportunity to save money depending on if you're flexible with your travel dates. Very helpful if you don't have a set schedule.