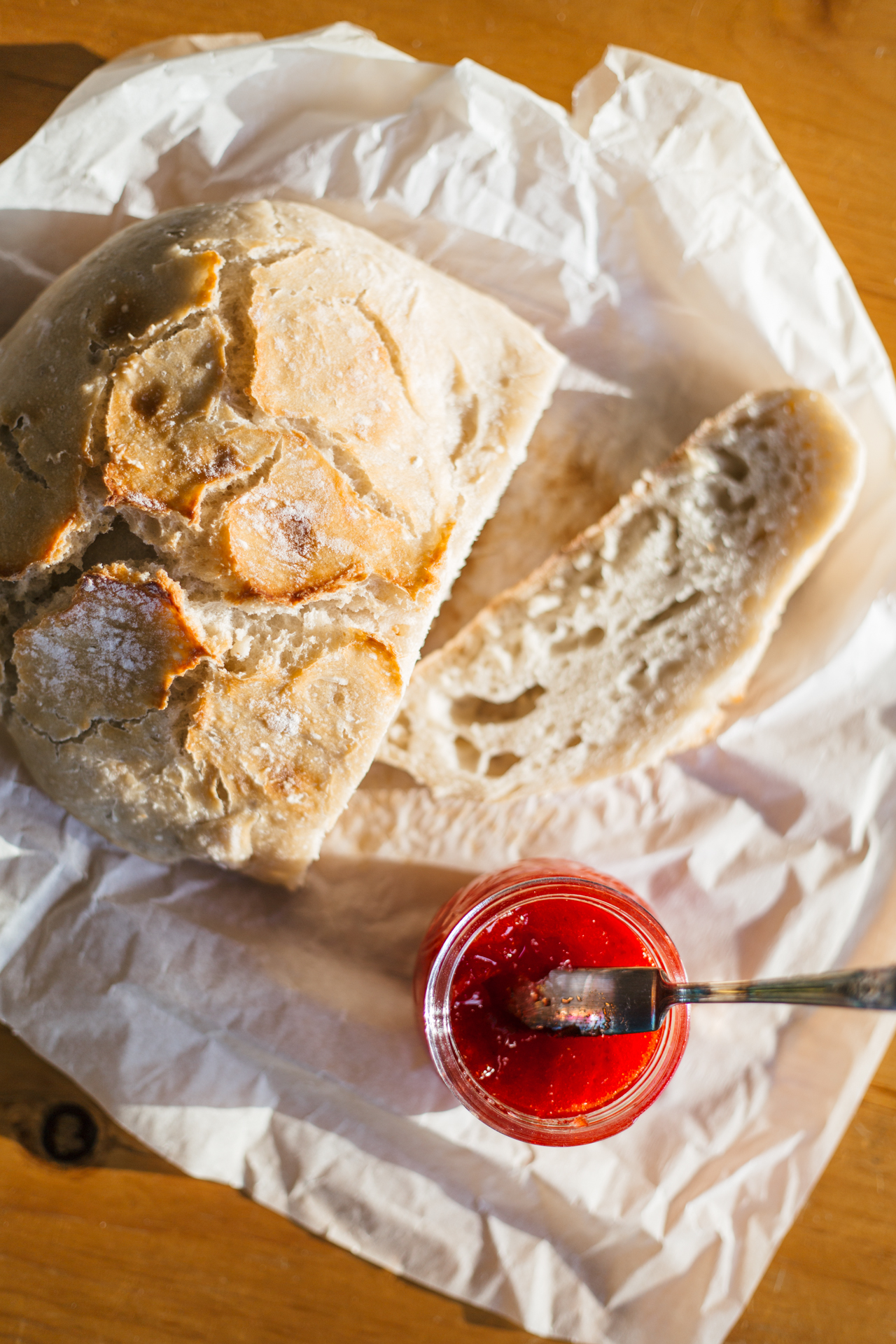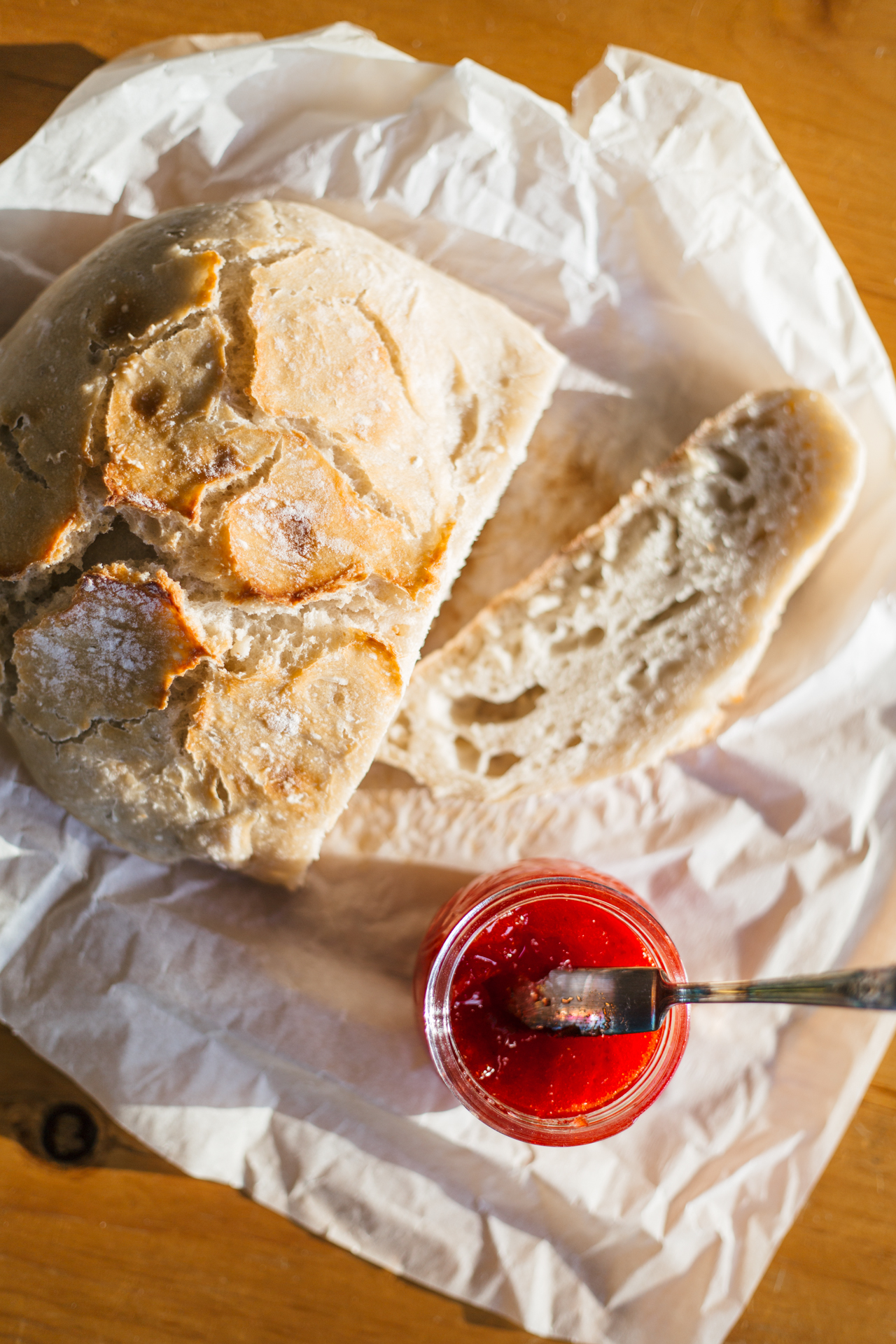 I love finding super simple recipes and this one hits the mark. With only four ingredients, this no-knead bread couldn't be any easier! It's crusty on the outside and chewy on the inside, perfect for pairing with soups, Italian dishes, or even on its own!
The only thing about this recipe is that it has to rise for 12+ hours. While that might sound like a little much, it's actually not bad at all. I ended up making it around 9 PM one evening and let it rise overnight. Around late morning the next day, I just tossed it in the oven and voila! All done! Another option would be making it in the early morning, letting it rise all day long, and then baking it right before dinner. I might do this the next time we have people over!
Original recipe from Pinch of Yum.
3 cups all-purpose flour

1/2 tsp instant yeast (see ingredient notes if you're using active dry yeast instead)
1  1/2 tsp salt
1  1/2 cups room temperature water
ingredient Notes
I didn't have a packet of instant yeast but I did have active dry yeast (the stuff that comes in a little glass jar). Active dry yeast has larger granules and needs to be dissolved in water before using whereas instant yeast is finer and can be mixed right into the dry ingredients. So if you're using active dry yeast for this recipe, here are the measurements: 1/8 tsp. sugar, 1 tablespoon water + 1/4 tsp water, 5/8 tsp. active dry yeast. Mix together in a small bowl and let sit for 5-10 minutes. Once it starts to foam/bubble, it's ready.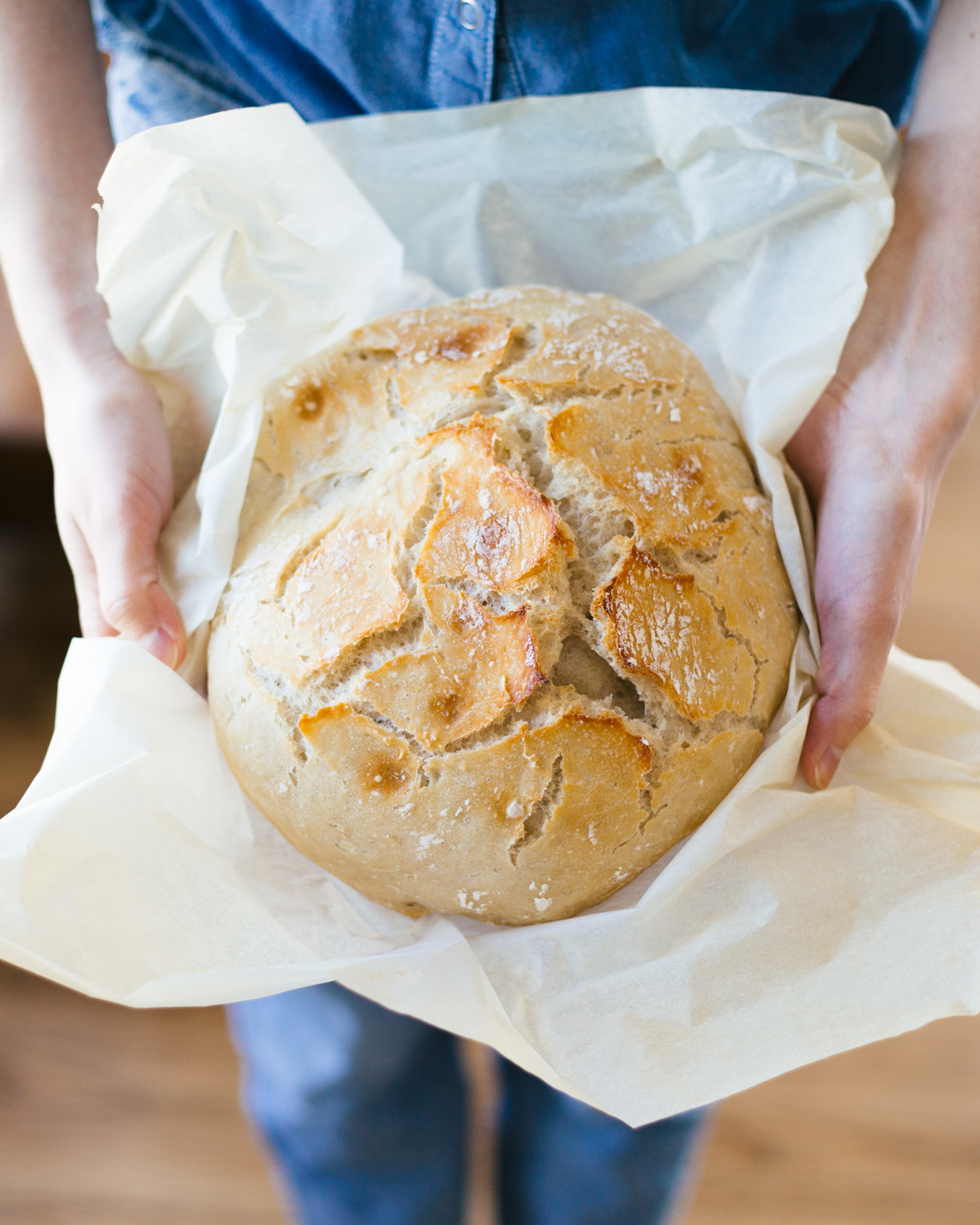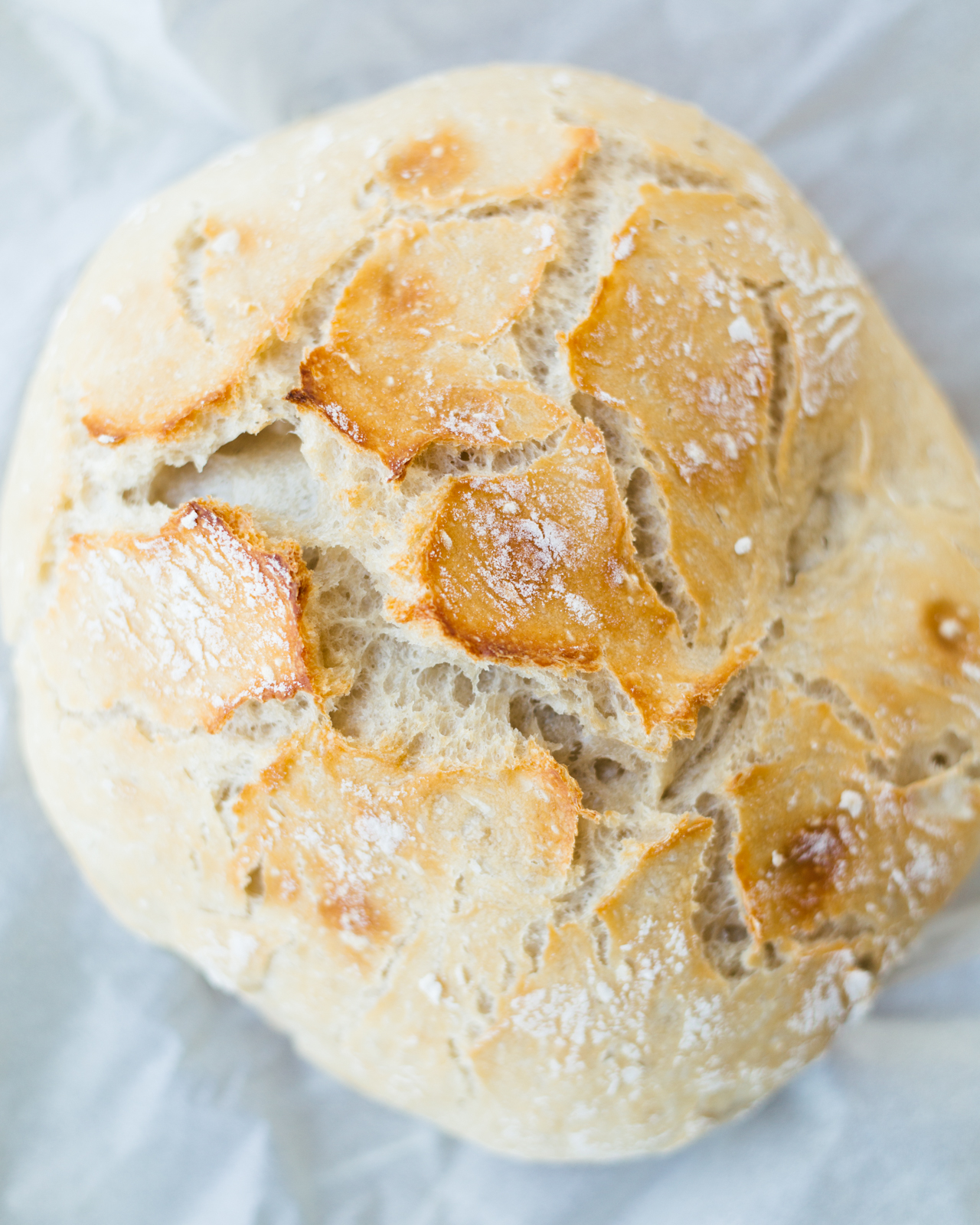 Step by Step Instructions
Step 1 | dough prep
In a large mixing bowl, whisk the flour, salt, and yeast together until mixed. Stir in the water until a chunky, thick dough forms. If it needs a little more water, add a few more tablespoons, just enough to get it barely wet throughout. It'll look scrappy, that's how it's supposed to look! Cover the mixing bowl with plastic wrap and let it rest for 12-18 hours at room temperature.
Step 2 | prep for baking
When you're ready to bake, preheat the oven to 450. Stick in a 6-quart dutch-oven for about 30 minutes to heat. At this point, the dough should be big and puffy and pretty loose, with little bubbles in it. Gently scrape the dough out onto a well-floured surface. (Remember: NO KNEAD.) Gently shape it into a ball with flour on the outside, set on a piece of parchment, and cover with plastic while your pan heats up.
Step 3 | bake
Remove the plastic from the dough. Lift the dough and parchment together into the pot so the parchment lines the bottom of the hot pan (be careful not to touch the pan since it's very hot). Bake, covered, for 30 minutes. Remove the cover and bake another 10-15 minutes to get the exterior nice and golden brown and crispy.
Step 4 | enjoy!
You're done! This bread is best enjoyed the same day.
Instruction notes
– I don't own a dutch oven so instead, I used a large oven-safe pot. I also didn't have a lid for the pot so I just used tinfoil.
– The dough will be very sticky. Make sure to flour your hands before picking it up.