Canoeing the Kickapoo River
For Memorial Day weekend, I spent three nights camping in Perrot State Park. It was hotter than blazes the entire weekend, each day reaching into the 90's. Thankfully we brought our canoe along so that we could spend some time on the water.
On Saturday, we explored the Trempealeau River, which is accessible right from the campground. But the river was so dirty and brown that I didn't even want to go in it to cool off. So we searched for other rivers nearby and we found the Kickapoo River, just an hour east of Perrot State Park.
The problem was that we only had one vehicle which meant once we got down the river, we had no way of getting back to the truck. We called around and discovered a few different shuttle services that could pick us up! So on Sunday, we loaded up the truck and headed to the Kickapoo.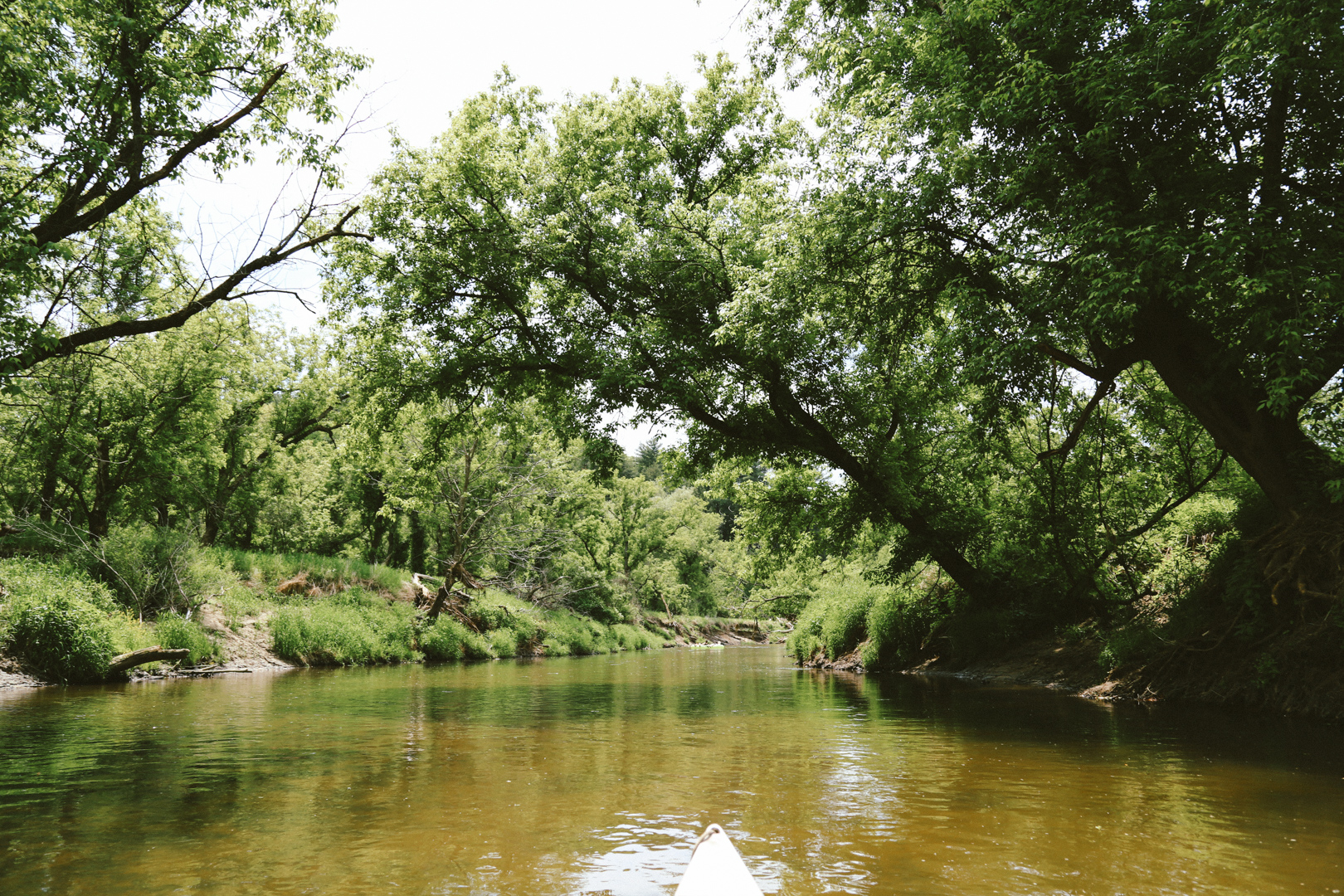 We ended up choosing the shuttle service through Wild Kickapoo Adventures and paid $20 up front for our pickup. There are numbered bridges along the river where you can land your canoe or kayak, so they told us to give them a call when we were ready, tell them which bridge we were at, and they would come pick us up.
We launched our canoe from Wild Kickpoo's dock (just north of Ontario), and within minutes, we were stunned by how busy it was on the river. Neither of us expected it to be so populated, but there were hundreds of other paddlers and people on inner tubes. What we thought was going to be a peaceful and quiet canoe ride, turned out to be a loud and drunken Memorial weekend party. For most of our trip, we were surrounded by obnoxious drunken paddlers and I was getting pretty frustrated. No matter what bend we rounded, there was another group of partiers, seemingly louder than the last. After about three hours of this, we had finally paddled beyond almost everyone and could enjoy some peace and quiet.
The Kickapoo River itself is gorgeous. It winds through various landscapes, from sandstone cliffs to pastoral farmland to lush forests. It's definitely a beautiful and picturesque ride. There are a few areas with mini rapids that made me a bit nervous because I didn't have my camera in a waterproof bag. The biggest one, in particular, caused the kayaker in front of us to flip but I honestly don't know if that was because of the current or her alcohol intake (lol). Luckily for us, we stayed upright throughout the entire trip.
There are multiple places to stop and pull over along the river. We stopped at a few little beaches to relax and stretch our legs.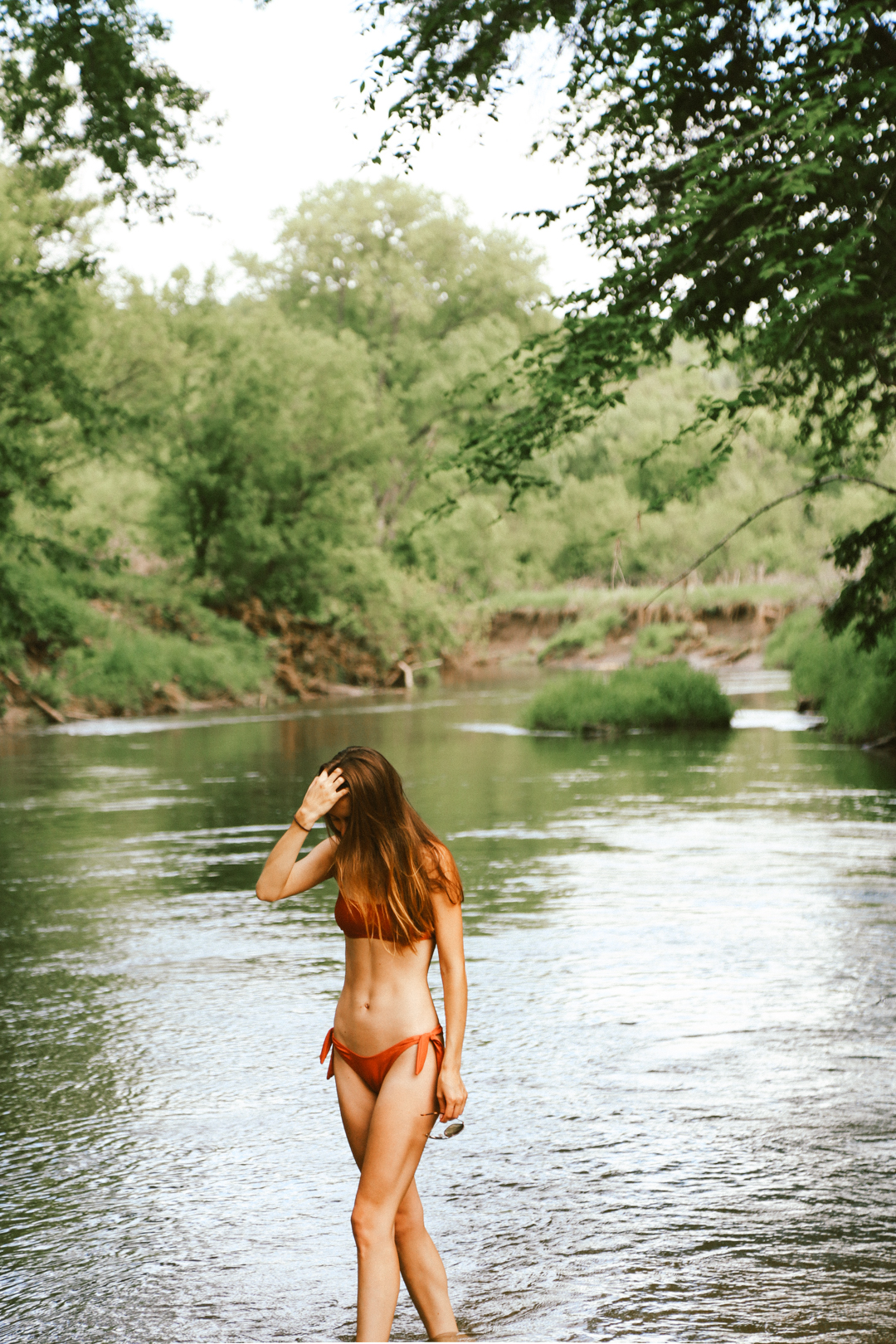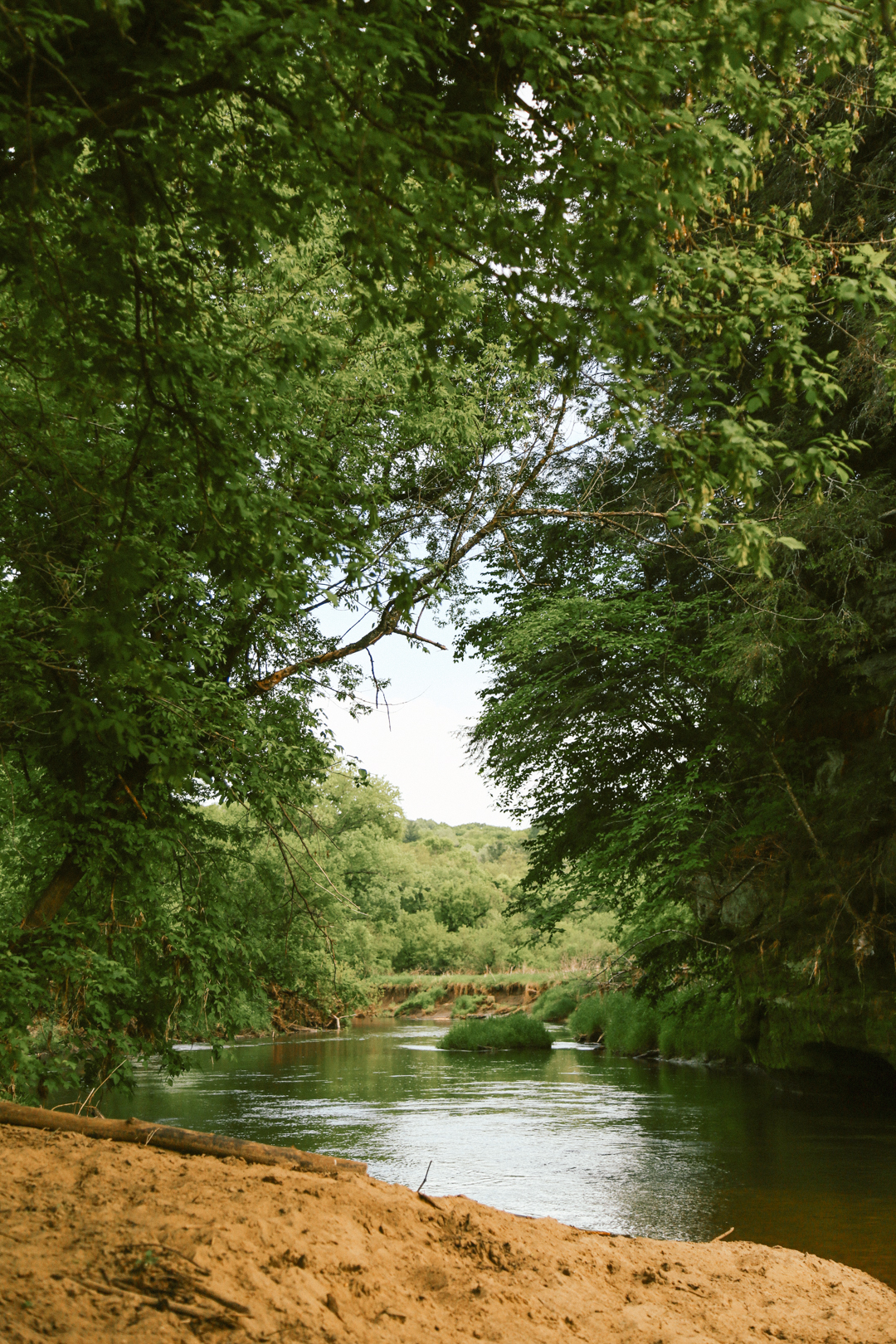 I was surprised by how many fallen trees there were in the river. You definitely have to be on the lookout to avoid hitting them and possibly flipping. In the picture below, you can see a big tree blocking almost the entire width of the river. We had to hug the bank on the left to avoid it.
There were also a few spots that were pretty shallow and where our canoe scraped the bottom. Other than that, the river seemed high enough.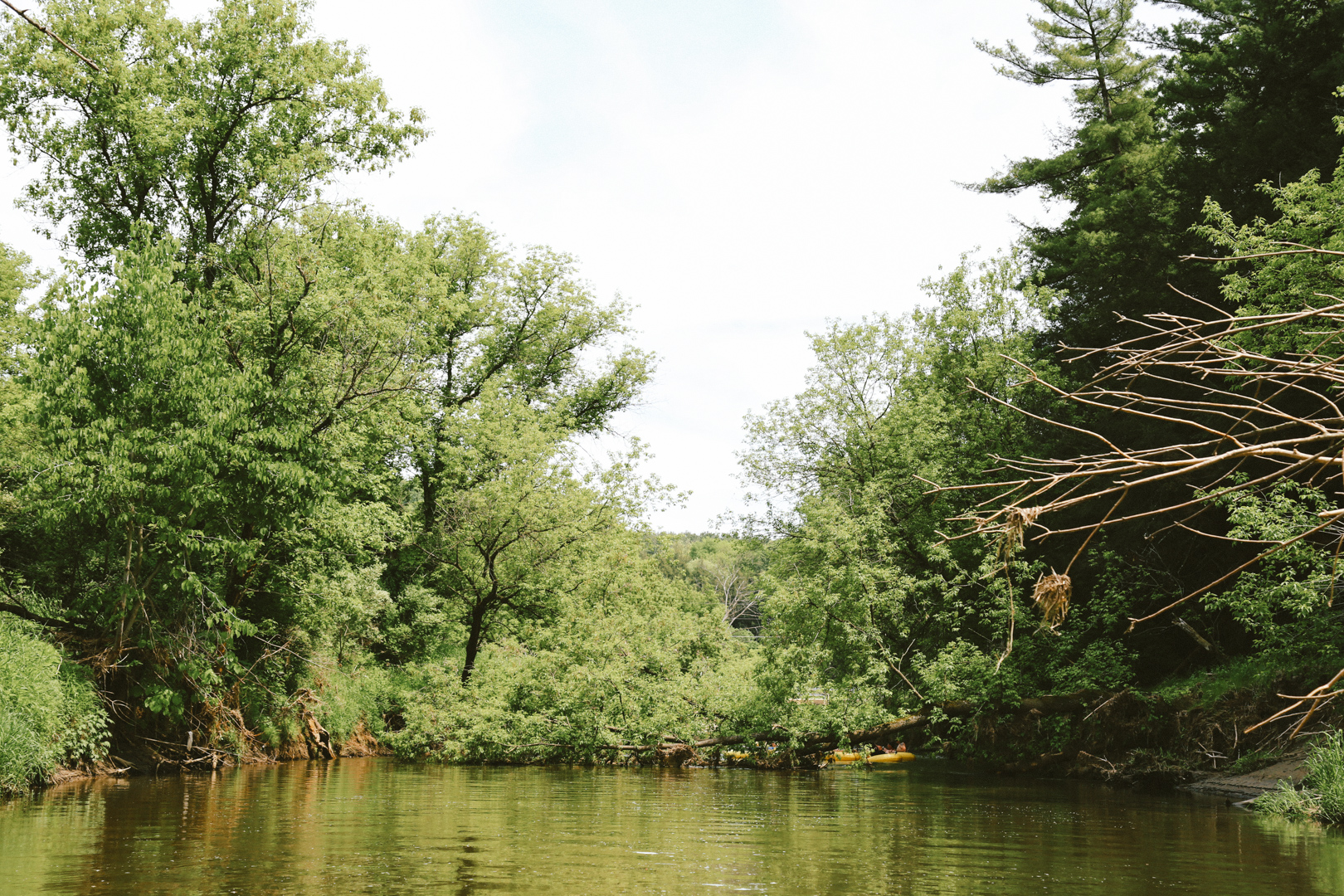 We ended up stopping at Bridge 8 and called the Wild Adventure shuttle to come pick us up. When we finally got ahold of them, we were in for yet another surprise. They told us they wouldn't pick us up from there and we either had to paddle back to Bridge 7 or go to Bridge 10. We were both a little confused about why they didn't mention this earlier, but we ended up paddling to Bridge 10 and they picked us up there.
It was quite the eventful day but we still had a good time nonetheless! I had never canoed a river before so it was definitely an exciting experience. If I were to do it over again, I would avoid Memorial Day weekend at all costs, haha! Maybe later this summer, we'll try it again in the middle of the week!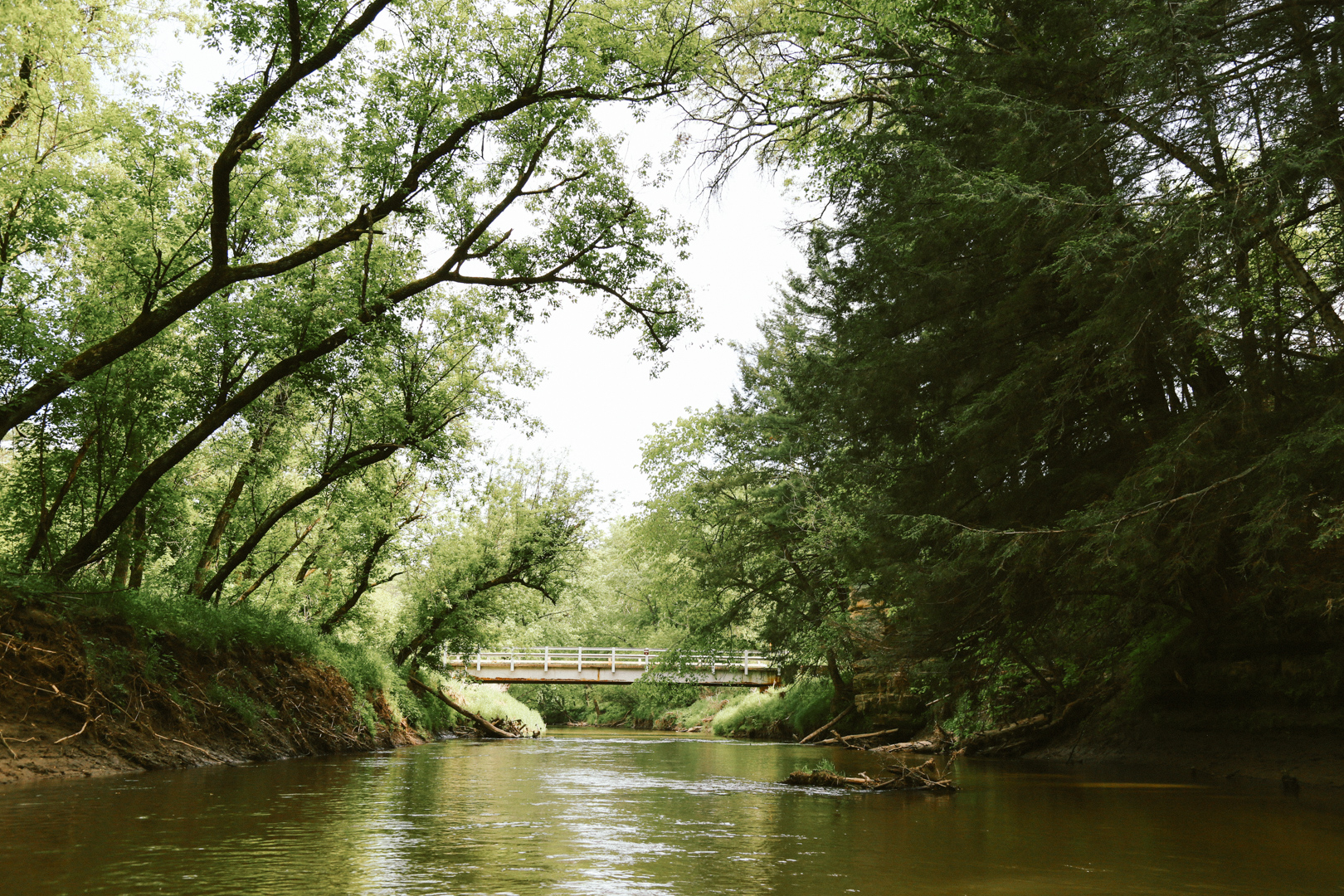 DETAILS
Kickapoo River Location | southwest Wisconsin
Put-in | Ontario
Take-out | Bridge 10
Date & Time | Sunday, May 27th, 2018 from approx. 1:00 pm to 6:00 pm
Weather | 90° and sunny, no wind
Total Time | approximately 5 hours (with 3 stops)
What we liked | The scenery is beautiful and it's cool how curvy the river is. I liked that there were multiple places to stop with little beaches along the shoreline. The water clarity at the beginning of the river (closer to Ontario) is fairly clear and you can see the sandy bottom (it got murkier the farther south we went, however).
What we would do differently | In the future, we'll avoid the major summer holidays and opt for a middle of the week trip instead to avoid the crowds. I would also take a waterproof camera bag so I wouldn't have to worry so much about it.
Outfitters & Shuttle Services | Mr. Ducks, Titanic, Drifty's.