With all the different kinds of camera brands and accessories out there, it can be really overwhelming to decide what to buy. Over the past 5+ years, I've purchased various brands, tested things out, sent stuff back, and now have my go-to gear that I use every single day. So today, I thought I'd gather it all up and share the exact items that I currently have in my camera bag. Hopefully, this helps you if you're ever in need of a suggestion!
If you want to see all the gear in one place, head over to my Amazon Storefront.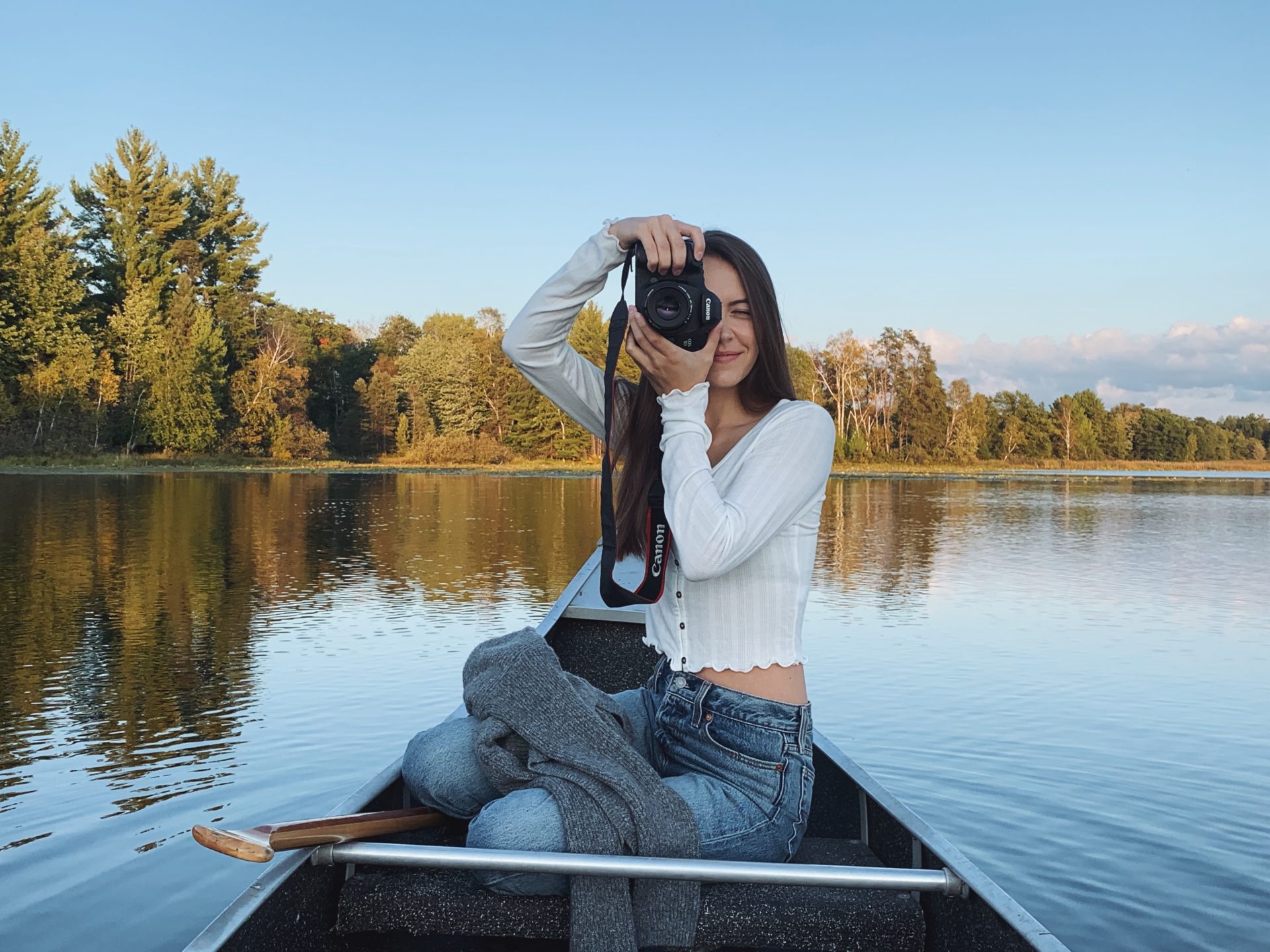 I bought this camera body back in 2014. It's been such an awesome camera and I'm so glad that I invested in it. If you're looking to get serious about photography or you're wanting to upgrade your current body, I would definitely recommend the 5D Mark iii.
This was the very first lens I ever bought. Considering how expensive lenses are, this one isn't too pricey. I think this is a really great "all-around" lens – from portraits to landscape, it allows you to capture all sorts of shots. I use this lens the most and I probably have it on my camera about 70% of the time. With it being an f/4, it doesn't get me as blurry of a background as I would like, but for the price, it's works great.
If you're willing to spend a bit more, I'd recommend getting the Canon 24-70 f2.8.
The nifty fifty! This is one lens I would 100% recommend purchasing. It's insanely cheap yet goes down to f/1.8 which means you'll get that super blurry background (aka bokeh). I love using this lens for portraits and details shots.
Again, if you're willing to spend a bit more then I'd recommend upgrading to this Canon 50mm instead. It's still a 50mm fixed lens but it's better quality and goes down to 1.4mm instead of 1.8mm.
This is the newest lens I've bought and I've been loving it so far! I wanted a telephoto lens in order to capture wildlife. Living in northern Wisconsin offers plenty of opportunities for this, whether I come across a deer while hiking or a loon while canoeing. I decided on the Sigma because it was one of the cheaper options, it had great reviews, and it extends to a whopping 600mm. Read my first impression of this lens here!
A few years ago on my birthday, my boyfriend surprised me with a DJI Mavic Air! I absolutely LOVE this little drone. It's one of the smaller drones on the market (about the same size as my iPhone) so carrying it around is super nice. It's easy to use and has a bunch of cool features. We recently figured out how to make it automatically follow us as we paddle the canoe! I can't rave about this one enough and I love the different perspective it gives me!
I ended up purchasing an extra battery (highly recommended since battery life is approximately 21 minutes), extra propellers (I crashed it into a tree once), a landing pad (definitely get one of these!!), and an extra micro-SD card.
Lowepro fast pack 250 & Vivitar DKS-25 | my backpacks
I have two camera backpacks. One is the Lowepro which I've had since 2015 and has held up really nicely, and the other is the Vivitar which came with my Sigma 150-600mm lens bundle. Both of them work well, the Vivitar bag is a big smaller but I use it more often since my Sigma lens fits in it. They each have a laptop sleeve which is really nice because I'm often bringing my MacBook along with. Eventually, I'd like to upgrade to just one large backpack.
Macbook pro 15-inch | my laptop
This has been such a reliable laptop. I used to only buy PCs but eventually switched over to this MacBook and I'm so glad I did. I've owned it for about 5 years now and it's still like new. It's really nice being able to AirDrop photos from my Mac to my iPhone – it makes uploading them to Instagram super easy!
Adobe Lightroom | my editing software
All of my photos are edited strictly through Lightroom. I don't own PhotoShop since Lightroom takes care of everything I would need. I purchased the one-time digital download from Amazon, however, as of 2019, I believe it's only available through a yearly subscription service.
accessories
Camera Strap | Peak Design. I love how easy it is to take this strap on and off my camera!
Canon Camera Batteries | I have two batteries. It's always nice to have a backup!
Memory Cards | I also have two Lexar Professional 64GB CF cards.
Memory Card Reader | This card reader has four different card slots. I love this one!
External Remote | I use this Pixel remote every now and then for self-portrait type shots.
External Hard Drives | I have two external hard drives. One is the WD My Passport and the other is from Seagate. Both are 2TB.